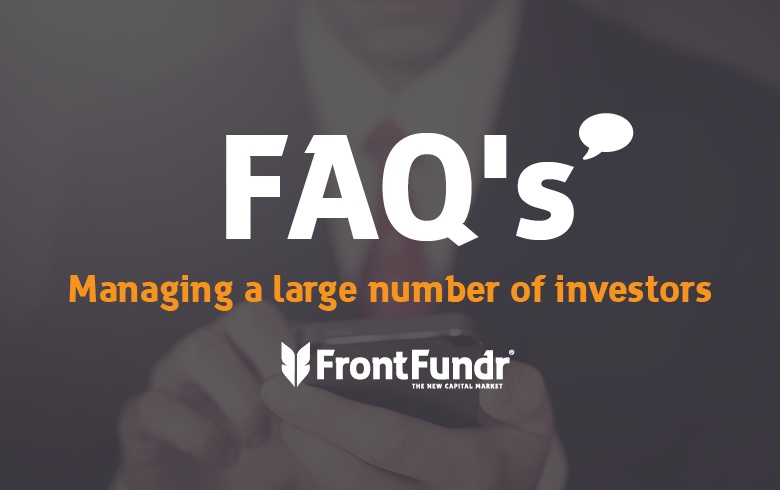 The equity crowdfunding space has become an increasingly hot topic in Canada over the past seven months, during which time numerous regulatory changes took place to make investing more accessible to the public. Moving beyond the technical conversation within the financial industry, mainstream media are starting to take notice and join the conversation. Equity crowdfunding is after all open to the crowd—meaning private equity investing is no longer a niche conversation for professional investors and the wealthy.
Most recently, the Globe and Mail took notice with an article examining the regulation of the New Capital Market, noting the complexity of managing many shareholders. Some seasoned investors who are proponents of traditional investment models—involving only a few wealthy investors—worry that more investors will cause administrative challenges. They suggest this model may be less appealing to angel investors and venture capitalists who prefer a simpler model where they believe they can have a more dominant influence over their investment.
While a crowdfunded investor base is certainly different than the traditional investment model, it also comes with many benefits. Taking on regular investors gives private companies the tangible benefit of access to capital to grow their business, but it also gives them access to a group of brand champions who will advocate on their business's behalf. Retail investors tend to have a more emotional connection with companies, as they choose to invest in companies whose product they already know and love and want to share it with the rest of the world.
At FrontFundr we believe that a publicly inclusive funding model is the future of private investing for our society, whose consumers are leaning ever more towards transparency and openness in business. For those businesses and investors considering entering into crowdfunding, we answer commonly asked questions about managing a large cap table.
How do I keep track of my shareholders?

Proactive communication with your shareholders at a predictable cadence will minimize the frequency of reactive questions you receive. We recommend a monthly update to your shareholders to keep them informed and engaged. This type of regular engagement is also likely to increase your shareholders' brand advocacy. FrontFundr can help manage expectations by including a section on your companies public profile stating your preferred method of updating your shareholders—this sets the tone from the get-go and shareholders will know what to expect from you and when.

In terms of paperwork, at the end of the raise, there is only one filing with the securities commission. FrontFundr helps you draft your Report of Exempt Distribution and delivers it to you in a clean excel format.

Will legal and compliance fees increase with many shareholders?

Good planning is critical to the raise and we will work with you and your legal team to finalize all template documents (subscription agreement, ascension agreement, offering document). This is no different than what you as a company would already be faced with when raising capital. Additionally, we will support you with the preparation of your offering document, which may actually help reduce the upfront fees.

Once the raise is underway and we have all the templates drafted and signed off by your legal team, FrontFundr takes care of all the execution of the documents and provides this in a complete package at the end of your raise.

This method is more efficient than the traditional model, and we often save companies money, as our support generally reduces transactional legal fees.

Will I be able to sell my company down the road?

A good deal is a good deal, and having retail investors on board won't prevent an exit or subsequent round of financing from happening. The key is to make sure that your corporate governance and structure of onboarding the investors is executed according to the planning done in step 2 noted above. We work with you and your legal team to ensure your shareholders agreement has the right features in place. From drag along and tag along provisions to voting preferences, the upfront set up a structure of your company will ensure that future fundraising rounds or exits aren't compromised. For more complex structuring, we can also provide structures to mitigate the number of shareholders on the cap table via a Special Purpose Entity (SPE).

Will my company be required to have regular quarterly audits?

The short answer is no, having more than 50 shareholders does not mean you become a reporting issuer subject to continuous disclosure requirements. For more information on this topic, read our recent article on demystifying the impact of 50 shareholders.
With the investment landscape shifting and opening up to the general public, we expect many questions from investors, entrepreneurs and the media. FrontFundr believes democratized investing will be integral to the way small businesses raise funds in the future, and we aim to educate and demystify the New Capital Market for the public. For more information on how the industry is regulated, visit our Investor Concierge or contact us.
* * *
This article is for general information only. It is not intended to provide specific customized advice including, without limitation, investment, financial, legal, accounting or tax advice. A decision by FrontFundr to list an investment opportunity on its platform should not be interpreted as an opinion with regards to future return on investment. The contents of this article are given in summary form and do not purport to be complete. FrontFundr recommends companies and investors to obtain professional legal advice before any capital raise or investments are considered. For further information regarding private placements in BC, please visit the BC Securities Commission website.