We couldn't be more excited about Canada's Prime Minister visiting Vancouver!
Our very own Jill Earthy, FrontFundr's Chief Growth Officer, was able to meet with a handful of community and technology leaders to discuss further growth of Vancouver and Canada's Economy through new companies and startup investment.
Thank you to the Vancouver Economic Commission who put together the event on May 18th and that focuses on the following areas:
PM making a priority for bringing innovation into Canada,

Unlocking capital to strengthen and expand the startup Community

Vancouver well positioned as an innovation hub

Variety of different types of industries

How to help build companies from $10 M to $100 M and get them to stay in Canada
Vancouver is specifically unique based on some of the following highlights that the Prime Minister mentioned during their discussion:
#1 Job Creating Economy in Canada (94,000 new jobs created in 15-16, 4.8% Unemployment Rate)

#1 Most Diverse Economy in Canada

#1 StartUp Ecosystem in Canada

#1 VFX and Animation Cluser in the World

#1 Cleantech Cluster in Canada
The participants included "innovators who are working at the start-up stage, innovators who have built extraordinarily successful companies here in Vancouver, and leaders who represent multinational enterprises who have chosen to land in Vancouver."
It was clear that having a mix of all types of industries and companies at different stages will allow for the healthiest growth.
The opportunity was incredible for Jill specifically to gain perspective on Vancouver's technology sector and met with a diverse group of community leaders to explore how to further expand and support, Canada's tech sector. The discussion involved exploring different topics such as unlocking capital across Canada (or investing in Start Up's), talent attraction and retention, and global access. Thus, acknowledging and supporting more Canadian companies to grow and remain in Canada (especially $10M - $100M).
Jill mentioned there was a focus on the SuperCluster concept and the benefits for Vancouver and Canada. Jill recognized and applauded the Prime Minister's work on inclusion and diversity, but also shared with him FrontFundr's value for new companies by supporting them through access and transparency for investors.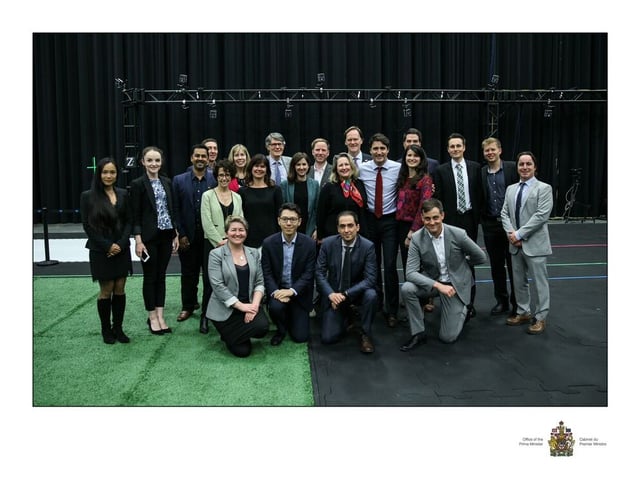 At FrontFundr, we're always collaborating with the companies we work with to make the process easier for potential investors, supporting them based on their specific goals and needs, reducing barriers and focusing on explaining their story to others while raising capital.

More specifically, the roundtable highlighted that Vancouver truly is a technology hub with strong links between different players in the ecosystem.
How do we further strengthen these collaborations to help more companies succeed?
How do we better connect the hubs across Canada?
These are the questions worth asking and pursuing, we're curious to hear your thoughts!
To learn more about the Prime Minister's visit, feel free to check out the following news sources:
Vancouver Sun,CBC News, and the Prime Minister's Official Itinerary.\
*Quoted statistics above were distributed at the Roundtable.
If you're curious to learn more about FrontFundr, either as an entrepreneur or an investor, click here to learn more!