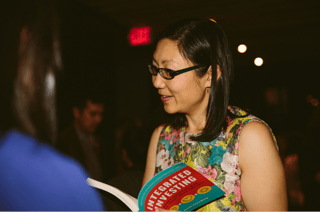 It's been an incredible month for us at FrontFundr through our #DiversityDrivesInnovation series featuring women investors and female entrepreneurs. To wrap this up, we couldn't imagine a better investor (and entrepreneur!) to feature leading into our focus on social impact than Bonnie Foley-Wong. Bonnie is the Chief Investment Innovator at Pique Ventures in Vancouver and a FrontFundr shareholder.
We wanted to learn about what she is looking for in companies, as an investor, so we could share it with you!
What do you look for when investing in a company?
Relationship fit first.
Do I get the sense that the CEO and I really want to work with each other? Investing in early-stage companies is more than just the money. Will I enjoy championing the startup and telling everyone I know about them? Will they be open and transparent with me about news, whether it be good and bad?
Are they taking care of the village in some way? This is my overarching impact lens and one of the foundations of Integrated Investing. All successful companies have some kind of impact, but I'm looking for companies that not only treat their customers and investors nicely, but are also mindful about treating their suppliers, staff, and community well.
I also look for a drive in the founding team and market opportunity that enables the venture to go big and global. That's not to say these are the only types of companies that should get an investment, but rather I'm also seeking financial returns. Am I willing to take the risk to try to achieve those returns?
What are some signs you look for as potential red flags?
Entrepreneurs that give canned answers to questions. If someone answers a question about exit strategy with "IPO", without any thoughtful explanation, it might mean they've attended a few too many startup workshops, while not understanding how the public capital markets work and whether their venture is a fit for this path.
The lack of follow-up. It might mean the entrepreneur needs more experience and it's a case of "not now", rather than "no". Or the entrepreneur is shopping the opportunity around and they care more about the money than the relationship.
What advice would you give to female entrepreneurs just starting out?
This is advice for all new entrepreneurs, but in particular for women entrepreneurs who might be at a financial disadvantage (especially as women on average get paid less than 80 cents on the dollar compared to men). Build your own financial capital and social capital early. By financial capital, I mean save some money or look for ways to start generating revenue right away.
By social capital, I mean meet people before you need to meet them. My hypothesis is that entrepreneurs that are more successful than others at raising money for the first time have a strong investor in their network already - one of the hypotheses I'm testing in my second book (Fund Your Business: How to Pique the Curiosity of Investors - working title!).
If you could change the landscape at all, what would you change?
We're on the right track, but the investor community could still be more diverse. With more accessible opportunities, like
angel funds
, crowdfunding, and syndicates, investors need more resources and knowledge to make informed decisions.